Its been said that there are as many brain tanning methods as there are brain tanners, and there is a lot of truth in that, if you examine the finer details that each tanners methods. And all of our methods tend to evolve over time. I dont tan the exact same way I did ten years ago. But, in the larger picture, there are really just two basic methods: Dryscrape and Wetscrape. As the terms suggest, dry scraping involves using a sharp tool to remove the hair and epidermis layer on a very dry, hard hide that is first stretched on a frame. In wetscrape, a totally saturated hide is placed over a smooth beam, and scraped with a dull tool. I wetscrape 99% of the time, and most of the pictures here are of the wet scraping process.
For those who would like to try brain tanning for themselves, we recommend the following books: Deerskins into Buckskins, by Matt Richards or Buckskin: The Ancient are of Brain Tanning by Steven Edholm and Tamara Wilder. We also have some brain tanning videos posted in our Gallery.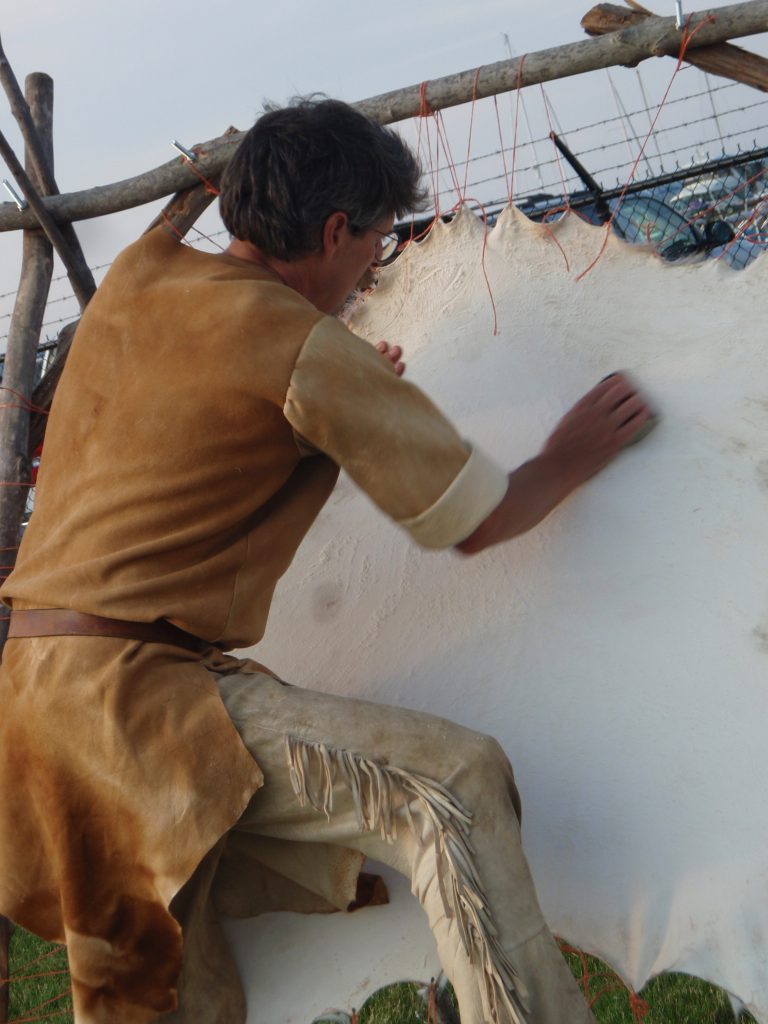 Deer Hides
Braintanned deer hides are $20 per square foot.
Example: an average sized hide of 10 square feet is $200.
Elk Hides
Braintanned Elk Hides are $25 per square foot.
Example: An average cow elk hide of 20 square feet is $500.
*Contact us for availability
Bark Tanned Hides
Bark Tanned Hides are $17 per square foot depending on quality.
*Contact us for availability
Sampling Products
If you wish to examine our buckskin before buying, free sample scraps less than 2 inches are available. Please email us your address to receive a sample.
When Ordering
To ensure you get the best hide(s) for your project we will need to know what size and thickness of hide(s) you prefer. Please specify color: White (unsmoked*) light, medium or dark.
You can email your order or call us at (724)253-4429.
*Our white hides are not smoked and must be kept dry. Unsmoked braintan will stiffen and need re-softened if washed.
Traditionally Tanned Furs
We are finally offering some of our traditionally tanned furs for sale. These come from my own trapline here in Pennsylvania, so I do every step from the catching to skinning to tanning. The initial handling of the animal is very important to getting a good finished product. We generally have red fox and raccoon and mink available. At times we may have coyote, beaver or muskrat. Specify if you want braintan or barktanned.
Prices:
Red Fox: $50-$65, depending on size or quality.

Raccoon: $35-$50 (most are in the $35-$45 range)

Mink: $25-$40, with most being at $35. Again, the price difference is due to the greatly varying sizes and fur quality.

Coyote: Start at $130 to perhaps $200 for an exceptional skin.

Beaver: Start at $35 and muskrat at $15.
We hope to have a larger variety of furs in the future. As always, if not satisfied with anything you buy, we will refund your money.
Custom Orders
Send us your ideas and we'll do our best to create a bag that reflects your personal style. We can also custom make the following items: Purses, cell phone bags, and book covers.
We sometimes have a few bags in stock, but most are hand made to our customers preferences. As with all hand made items, no two are exactly alike. Check out our Gallery to see a few samples of our work.