Braintan is an ancient method of tanning hides that involves dressing a raw hide with brains, (or other natural emulsified oils) softening it with manual labor to produce soft buckskin and smoking it to preserve the softness.
Some version of braintan was produced in nearly every part of the world, at some point in history. Here in America, when we think of buckskin, the first thing that comes to mind are the native plains tribes with their long, graceful fringe. And with good reason. Buffalo, deer, antelope, bighorn sheep, and elk hides clothed them, and provided their shelters in the form of hide Tipis. But did you know that buckskin was also worn by those on the Lewis and Clark expedition, the trappers (mountain men) of the 1800s, and settlers in both the east and west?
When they harvested their meat supply, they gained the raw materials for their clothes. All they needed came with the animal, except for wood smoke and a few simple tools.
If you wish to examine our buckskin before buying, free sample scraps less than 2 inches are available. Please email us your address to receive a sample.
On this site you will find pictures of our brain tanned buckskin, a few products we create, customers testimonials, and check out the blog page for braintanning tips. Enjoy your visit and come back often to check for updates.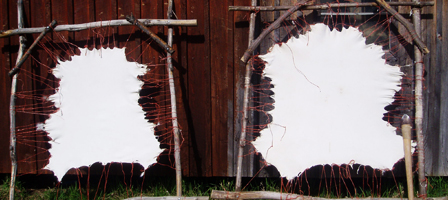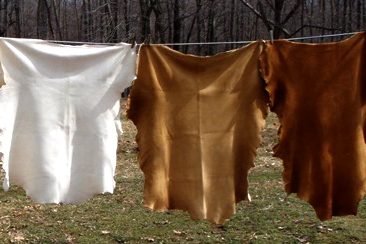 Braintan Deer
Cost: $20 per sqft.
Average deer hide is around 10 sqft.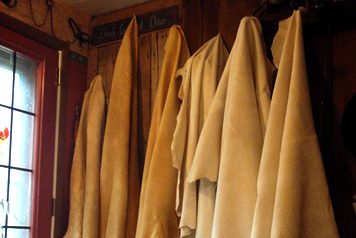 Braintan Elk
Cost: $25 per sqft.
Average elk hide is around 20-25 sqft.
*Contact us for availability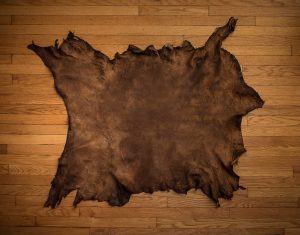 Bark Tanned Hides
Cost: $17 per sqft.
*Contact us for availability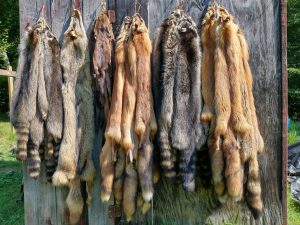 Traditionally
Tanned Furs
We are finally offering some of our traditionally tanned furs for sale. These come from my own trapline here in Pennsylvania, so I do every step from the catching to skinning to tanning. Visit our Services Page for additional information.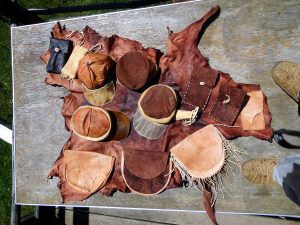 Custom Orders
Send us your ideas and we'll do our best to create a bag that reflects your personal style. We can also custom make the following items: Purses, cell phone bags, and book covers.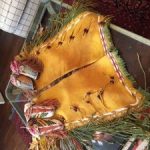 Mike Kostelnick
Customer
"Your work is the best out there right now and your prices are right, so I recommend your hides in all of my classes!"
Dave from South Carolina
Customer
"The Stallsmith hides are of the highest quality. They make great possible bags, and straps. There hides also allow me to make possible bags and knife sheaths of my own design."
The middle bag in each pic was made by Loren and Liza and the other bags are made by the customer. We make the bags and the customer adds the quillwork.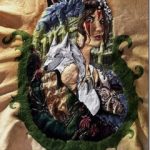 Kfir Mendel
Customer
"I'm a craftsman and artist, working exclusively with brain tanned buckskin. I need only the highest quality braintan for my art, sometimes with very specific characteristics. I've been purchasing buckskin from Circle S leather since 2012 and have never been disappointed. As a former professional tanner I can confidently say it's some of the best buckskin around."